Hello from the Maple class team!
We are Maple class, we are following an informal approach to our learning. This means we are having lots of activities around us that we can opt into. We believe that choice is very important and that not all of our learners will engage in lots of adult led activities and lots of demand to engage. We hope to offer irresistible moments to engage and are consistently acting as a communicative partner to the learners in the class. We are currently trialling weekly themes to help engagement and further our learners motivators and interests. If your child has begun playing with new items and objects at home please do email us and send photos to maple@brackenfield.derbyshire.sch.uk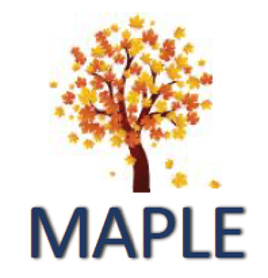 Maple Class have been working on embedding their daily routine using picture symbols and visual prompts such as coats for outside, the bucket for attention autism and a dinner tray for lunch time. You can encourage this at home with holding up your child's coat and shoes and using simple one word instructions such as "outside", holding up a nappy to indicate its bathroom time, or getting the car keys to indicate your going for a trip in the car. Perhaps there are some new visual prompts you can introduce for tasks you usually do at home. Visual prompts are something we find the pupils in Maple are responding well to this term.
Friends, relationships and community
Maple class have been working on transitioning this term with great results. As a Class we regularly visit the hall and Elm class and have even been to the local park. Why not try some small transitions at home. If your child spend lots of time in the living room why not take some of their favourite things into another room that they don't don't normally go in to encourage them to spend time in there.
In Maple Class we have been promoting independence by offering choice. Sometimes it's easy to try and guess what our children want as we know them so well we usually know what they want before they do! But by offering choice we are empowering them and giving them a sense of independence. At home you can do this by offering your child a choice between two preferred items (two things they like so you can see which one they like more) Or a choice between a preferred a non preferred item (to embed their choice of the preferred item). This could be done with anything at home such as snacks, toys etc
In Maple Class sensory work out has been a very popular and engaging activity. We have tried lots of different tastes such as lemon, herbs and spices, cucumber and strawberries. We have also introduced fruit tasting into our morning routine when we sing the fruit and vegetable song. Dancing and music time has also been very popular and we now have some favourite nursery rhymes. At home you could try singing 'head shoulders knees and toes' or 'row row your boat' simply sing and do the actions and see if you can get your child to show an interest or even join in with you.
Try to find out new things that your child enjoys , this may not actually be toys it maybe a fully spread out toilet paper, sellotape stuck down on the table, old cds that are not used anymore  plant pots, bottle or chops sticks. The more items we can find that your child enjoys the more chance we have for them to communicate that they want (or don't want) something.